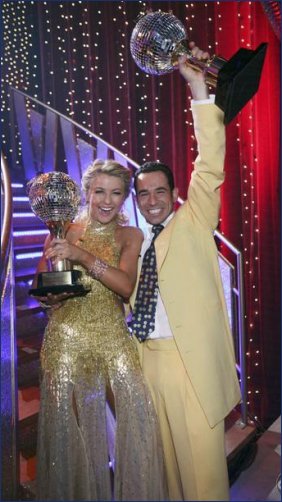 IndyCar racer Helio Castroneves and his professional partner Julianne Hough were crowned Dancing with the Stars fifth-season ballroom champions during last night's live finale results show broadcast on ABC.
"This is an incredible moment right now! It's awesome!" Helio exclaimed after host Tom Bergeron revealed he was the fifth-season celebrity champion based on the combination of the judges' score shares for the dancers' Monday and Tuesday night performances and the share of home viewer votes cast immediately after Monday night's broadcast.
"I want to thank, obviously first of all, my [IndyCar] team for letting me do this," he continued. "Secondly, obviously my family, the fans, and this special person here [Julianne]."
After 10 weeks of competition, Helio and Julianne defeated Spice Girl Melanie Brown and her professional partner Maksim Chmerkovskiy, who finished second, and entertainer Marie Osmond and her professional partner Jonathan Roberts to take home Dancing with the Stars' mirror ball trophy .
Like Helio -- a two-time, back-to-back Indianapolis 500 champion who won the IndyCar race in 2001 and 2002 -- Julianne is now a two-time, back-to-back champion in her profession. Last season, the Dancing with the Stars professional claimed the show's Spring 2007 fourth-season title with celebrity partner Apolo Anton Ohno.
Julianne joins Cheryl Burke -- who won Dancing with the Stars' second-season title with Drew Lachey and the third-season crown with Emmitt Smith -- as the only professional partner to have two mirror ball trophies to their credit.
"Helio has a positive outlook on life every single day," said Julianne during a video montage that aired before the results were revealed. "He works hard, and his joy and his charisma just radiates and makes me want to be a better person, better teacher, better everything."
During Monday night's live performance episode broadcast Helio and Julianne received a 25 for their jive routine and a 29 for their freestyle routine from the judges, giving them a combined score of 54 out of 60 possible points. The score placed them right behind Mel and Maksim, who received a 28 for their cha-cha and a 27 for their freestyle routine, giving them a combined judges score of 55 out of 60.
Mel and Maksim and Helio and Julianne also performed their favorite fifth-season routine during last night's live results show broadcast -- with their scores contributing to their final combined judges score total but not being voted on by home viewers who had already voted based on Monday night's performances.
Mel and Maksim performed their Week 8 mambo routine, for which they originally received a 29, while Helio and Julianne performed their Week 8 quickstep, for which they originally received a 30. However both couples received perfect 30 scores from the judges for last night's performances, so they had a negligible affect on the competition's ultimate outcome (Helio's share of the total judges' points awarded shifted fom 49.54% to 49.70%).
Tom then revealed the results and awarded the fifth-season mirror ball trophy to Helio and Julianne, eliminating Mel and Maksim -- who were the fifth-season's highest-scoring couple with five perfect 30s -- from the competition.
"I've enjoyed all of it, and especially being with [Maksim]. He's incredible. He really is," Mel told Dancing with the Stars co-host Samantha Harris at the conclusion of last night's broadcast.
In a change from last season's finale format, the couple who received the lowest score based on a combination of the judges' scores from Monday night's two routines and home viewer votes cast immediately following the broadcast was eliminated at the beginning of Dancing with the Star's fifth-season finale broadcast.
That was Marie and Jonathan, who had found themselves at the bottom of the judges' leader board for the third week in a row following Monday night's broadcast. The pair had received only 46 out of 60 possible points for their two routines -- a 24 for their samba and a 22 for their "living doll"-themed freestyle routine.
Marie's elimination brought an end to her tumultuous Dancing with the Stars journey.
She fainted on-camera following an October 23 samba routine; saw her 90-year-old father George pass away during Week 7 of the competition, causing her to miss the subsequent results show broadcast; had her 16-year-old son Michael enter rehab for undisclosed treatment only several days before the semifinal round; was criticized by Maksim for playing the sympathy card with voters; and had her finale worthiness questioned following her doll-themed freestyle.
"I am so pleased to be here at my age," said Marie, who received a standing ovation from the studio audience after her ouster was revealed. "I was telling Jonathan -- first of all, I love him to pieces -- and with everything I've been through in the last 10 weeks? Wow. He pulled me through it... and the fans."