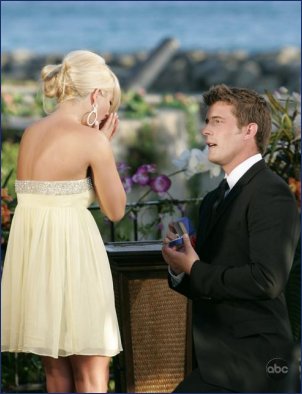 The Bachelor: London Calling star Matt Grant presented his final rose and a marriage proposal to Shayne Lamas -- and she accepted both during last night's finale broadcast of the ABC reality dating series' twelfth installment.
The 27-year-old British financier awarded his heart to the 22-year-old actress from Malibu, CA instead of Chelsea Wanstrath, a 24-year-old pharmaceutical sales representative from Durango, CO who became the final bachelorette to be rejected by The Bachelor's first-ever international star.
"This is the happiest day of my life," said Shayne at the broadcast's conclusion.
The Bachelor: London Calling's finale began with Matt in London meeting Chelsea before introducing her to his mother Trish, his father Tony, and his brother Simon.
"There hasn't been a straight forward journey for Chelsea and I," said Matt. "I've been questioning whether or not she's really into me."
Chelsea was excited to see Matt and be in London, since if he gave her the final rose she might be relocating there. She said she was "nervous" and "intimidated" to meet the family.
"My relationship with Matt has gotten so much more intense," said Chelsea. "The stakes are really high right now."
Chelsea gushed about Matt over dinner. Simon thought Chelsea was "charming" and "incredibly beautiful," while Trish thought she was "doing a very good selling job."
"But I don't know her well enough to know whether that was genuine or not," added Trish. "She's got to convince me hasn't she? Very difficult situation for her to be in."
Chelsea explained to Matt's mom she was falling more in love with him every minute but was having a hard time opening up to him.
"It's not something I wanted but it's so hard not to because you're deathly afraid this person is going to break your heart," said Chelsea. "But I need to make myself vulnerable and open."
Trish said she could see Matt and Chelsea have a "very good relationship" and her son acted like himself around her. Matt then talked to his mom about Chelsea, and she told him that Chelsea needed to be more vulnerable.
"I'm not prepared to pick somebody if I'm not sure they're feeling a 100% like I am," Matt told mom.
Chelsea then said goodbye to the family before Matt walked her out.
"It's safe to say that I feel like I could be a part of the Grant family," she said. "Everything went better than I could have ever planned."
The next day Matt met with Shayne, whom he said had an "uphill struggle" since Chelsea did so well the previous day. Matt and Shayne took a double-decker bus tour of London before going to his parents' house.
"The second the bus pulled up, I was nervous," said Shayne. "I am absolutely shaking in my boots, but I'm falling in love with their son, so I have absolutely nothing to hide."
Shayne immediately opined about being unable to go shopping while on the tour.
"When I first saw Shayne I thought, 'Wow, beach blonde hair...'" said Simon. "To be honest, I didn't think she was very 'Matt' at all."
Tony asked Shayne how old she was and she joked she was 12 before giving her real age. She then talked about her career as an actress and how it was tough for Matt to get used to it, and the family seemed to eventually open up.
"I feel like I gave Shayne a really hard time today," said Simon. "But to be fair, she came across really well."
He then told Shayne she "grew" on him during dinner and he was happy she opened up.
"In two days, you could be engaged to be married to him," Simon told her. "Does that freak you out?"
"No," she answered. "It freaks me out knowing that in two days I could lose him."
Trish told Shayne from the moment she met her she felt "at ease" before asking what she's looking for in a husband.
"Matthew's got a very difficult decision," said Trish. "I think he's very, very fond of both Shayne and Chelsea. I don't know which way he's going to go."
Shayne said goodbye to Matt's family.
"I really had a beautiful time meeting them," she said. "It was beyond my expectations. If it's not Matt and I at the end, I'm going to be crushed."
Matt then conversed with his family and said he feels the "most at ease" with Shayne but thought there might be "more passion" with Chelsea.
"My gut instinct was that Shayne was more sincere than Chelsea," said Trish, but Simon disagreed and said he could imagine his brother being more with Chelsea. Dad sided with mom that Shayne was the one for their son.
"What you've got to realize is the final decision is yours," said Mom.
Next it was off to Barbados for a final date with each of the girls before the final Rose Ceremony. Matt took Chelsea on a helicopter ride around the coast of Barbados and they subsequently settled on a sandy beach for a picnic.
"I think you and I leaving this place would have a great future together," Chelsea told him before he held her in the surf and they kissed.
Chelsea wanted to share a piece of her heart with Matt on their last night before the Rose Ceremony, and she gave him a California survival kit that contained items representative of their future together. She explained she gave Matt the "Chelsea brochure" throughout their six weeks together that was metaphorical on two sides -- it showed different sides of her and also took a while to unfold.
"My whole thing is... so I'm falling in love with you. Absolutely, 100%" she told Matt. "But I don't feel like you can truly love somebody unless they have the capacity of loving you back."
"I'm falling in love with you as well," he replied. "You know that."
They then kissed and she urged him not have fun with Shayne the next day.
"Without a doubt I'm falling in love with Chelsea," said Matt. "She's everything I ever wanted. She's incredible, she's absolutely incredible. I hope we can get through this together."
The next day Matt met with Shayne for their final date before the Rose Ceremony. Matt said he has "so much fun" with Shayne and described her as a "monkey" when they cuddle.
"Today is very serious," said Shayne. "I will definitely show my feelings today and why I want to be with him for the rest of my life."
The two then went parasailing and Shayne took time to reflect.
"I want Matt forever. I love him," she said in a confessional. "I'm just ready."
That night she gave him a gift -- photos of her spelling out "I love you" in beach sand. Matt thought the gift was "so sweet" and said it melted his heart.
"I knew that was so hard for her to do," said Matt on the gesture. "How big a jump she has taken. I was really touched."
Matt then told Shayne he's "falling in love" with her, and she said the same about him.
"I haven't made my decision yet," said Matt as he said goodbye to Shayne for the night. "I'm coming out of today completely confused and perplexed at what decision I'm going to make. I never regret, so I know when I do make it, that is it. Now I've got to make it."
The morning of the final Rose Ceremony, Matt looked at some "amazing" Tacori engagement rings and found one he was wowed by.
"I've never been this nervous, I've never been this apprehensive," he said. "I never thought I'd fall in love with two women... I never thought I would so emotionally attached to two people. I'm going to have to say goodbye to one of them at the end, and regardless of what decision I make, somebody is going to get hurt. I just thought to myself who out of these two women can I see as a life-long partner. It was quite clear to me."
The Bachelor: London Calling's final Rose Ceremony then commenced in Barbados, and Chelsea was the first girl to exit the limousine and approach Matt.
"There's still a chance I could get my heart broken," she said. "I'm really, really hoping that Matt chooses me... At the end of all this I would be so thrilled and so honored to have Matt propose to me. I just don't see myself without him. I really don't."
Matt greeted Chelsea with a kiss and explained he never thought he would meet someone like her and he found himself falling for her when they went on the group date to Las Vegas. Since then, he said they got "so close" and "shard some amazing times." But...
"I've come here to find my life-long partner, as I know you have as well," he told her. "And when I think about that long and hard, I'm thinking I can't give you everything that you need. My only buts with you are the fact that it has taken us a long time. It's been a tough journey, and at times, I've felt so much for you. This doesn't take away from the fact that I found myself falling in love with you."
Chelsea cried and said she had no regrets about her experience.
"I just find it so hard to think that I would have fallen for someone unless they were falling for me..." she told Matt.
"I was falling for you," he replied.
"I felt like I got the reassurance and the okay from you to open up. I was genuine about everything I said because it took me longer..." she said. "Know that although it took me a while, I've met everything I've said. I guess I was just too late..."
"At times I thought you were the one. Many times," he said before wishing Chelsea the best and sending her on her way.
"I don't understand!" an increasingly upset Chelsea blurted out to Matt about Shayne. "To me she was the falsest person here!"
"You know what? She isn't," Matt answered sharply. "The individual that I know is fairly different from the individual you know."
Chelsea then said goodbye and was whisked away.
"It's the hardest thing," said Chelsea from the back of the limousine. "You feel like you just admitted to yourself how much you love somebody and want to spend a future with him and my relationships have been let down after let down after let down. It bothers me that I was so sincere and I feel like I was maybe too honest with him... He's a fool. He is a fool."
Matt said the only way he was able to get through rejecting Chelsea was knowing that he had meeting Shayne to look forward to, and he was excited at the prospects of proposing.
"I know that she will always be there for me," he said.
As she prepared to meet Matt, Shayne said she was "nervous and sad and scared and very anxious and a little worried."
"What an amazing way to fall in love, "she said. "Matt holds every single quality that I want in a husband and somebody that I want to spend the rest of my life with. I've given Matt everything I could and if I lose him I would be heartbroken."
Once Shayne arrived, Matt explained he first thought Shayne was "too good to be true" and eventually learned she was there to "find someone for life."
"I know when I look in those beautiful brown eyes that you'd always be there for me," he said. "I hope that you know that I'll always be there for you. I don't have much more to say..."
Matt then got on bended knee.
"Give me your hand," he asked. "Shayne Lamas. I love you..."
"I love you!" she replied.
"I have something for you," he said. "Monkey... Will you marry me?"
"Yes" she answered. "Matt, I love you!"
The two hugged.
"Okay, I have one thing to tell you," said Shayne. "I will marry you under one condition -- that you will never look at another woman for the rest of our lives. Because you have looked at way too many during our relationship."
"I promise you," he said.
Matt then presented Shayne the final rose.
Matt's proposal to Shayne and her acceptance of it marked only the second time in its last six seasons and just the third time in its last nine editions that a The Bachelor edition ended with its bachelor proposing to his final bachelorette.